Start your Bird's Day
The HEALTHY BIRD way!
---
SPRING SPRUCE UP
Every Birdies Cage needs a Spring Overhaul I am sure! So let us have some fun and enjoy seeing pictures of all your feathered friends! Post your favorite picture of your feathered friends. 2 entries allowed per person as we all know no one can stop at just one feathered friend!
We will add them to the Spring Spruce Up folder.
PART 1 - Once Healthy Bird reaches 800 LIKES on Facebook. we will have Arbie or Muffin, our Red Bellys, do the draw. So Like and Share far and wide! Winner takes home $125.00 worth of products from Healthy Bird. We will pay the shipping up to $25.00.
PART 2 - All the pictures will be taken and put in a new folder, starting the Likes for each picture back to 0. Once 1100 LIKES are received on Healthy Bird FB Page, the picture with the MOST LIKES will also be a winner! $125.00 worth of products and up to $25.00 paid in shipping for you.
New Spring Colours for flightsuits and Jr Hoodies in Aqua colour
In Stock this week, just in time for Spring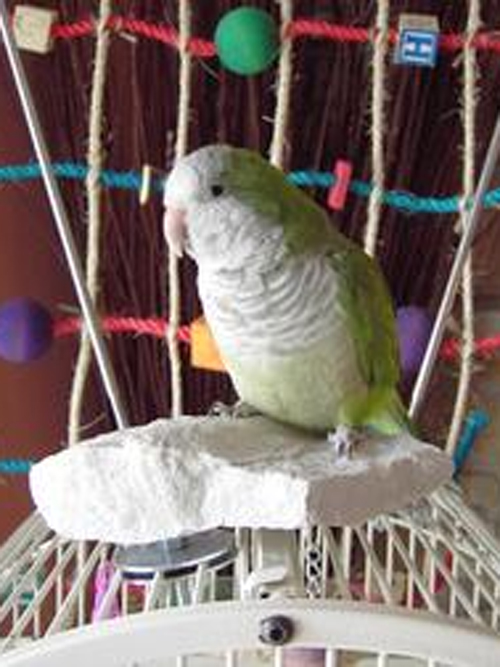 Corner, Swing, Regular and Cagetop Flagstone Perches in stock.
So many benefits, to grooming toes and beaks to having a nice rest place for naps and bedtime.
---
FREE Delivery to Moncton, Riverview and Surrounding Area. Place your order On-Line if you wish, check Walk-In Customer and leave note in comments Section. Our pleasure to deliver for you!
REDUCED Shipping Rates
FREE SHOPPING WITH REWARD POINTS!
GIFT CERTIFICATES AVAILABLE
VOLUME DISCOUNTS ON SELECT PRODUCTS
Welcome to Healthy Bird, where the Health & Happiness of your bird(s) is not only our Business, but our top priority and concern. You will find our inventory quite extensive and hopefully our site, easy to navigate. Suggestions always welcome! Items showing out of stock, need larger sizes? Inventory updated every 5-6 weeks, larger sizes please ask, we would be happy to bring in for you.
Lighting, toys, perching, cages, foods, snacks, organic foods, carriers, supplements, breeding supplies, personal gift items, wingdow seats, carriers, harnesses, being one of Canada's largest parrot stores, the list is endless! Representing some 150 manufactuers, , our primary goal is simple. To provide fast, efficient service and affordable pricing while ensuring you have happy, healthy parrot(s).
Healthy Bird is the Canadian Distributor for Birdcare Company Products. Breeder / Quantity Discounts.
We strive hard to stock only what we feel is safe and healthy. Most birds actually are mini two year olds in disguise. So as you would for your human kids, you have to know your feathered kids and determine individually, what you feel is safe or unsafe for that particular feathered friend. We can assume NO responsibility for manufacturing / ingredients of any products we carry.
Our Store is a BIRD FREE ZONE. This we do not apologize for, as we do it for the Safety of ALL Parrots!
We do not have your normal hours of operation. As our store is on our property, if we are here, we are more than happy to personally serve you! If you know you are making a trip to Healthy Bird from out of town (or even in town) , please send us a quick email or call us to ensure we do not run out anywhere.
If you need that special gift wrapped, leave us a note in the comments section of your order. Need it sent to that someone special, leave us a comment on order. We will be more than happy to do so. Gift wrapping and card, no additional charge! Gift Certificates always available!
Thank you for Shopping with us! We appreciate your business; we hope your bird(s) appreciate your purchase!
Jo (Joanne) Cormier
Healthy Bird
506 532 3757 (store / home)
506 312 3757 (cell)
506 576 0865 (cottage)
PRICES SUBJECT TO CHANGE WITHOUT NOTICE
---
Thank you for shopping Healthy Bird!
Where the Health & Happiness of your Bird(s) is Our Business
(Please note if you would like French Service - ask for Louis)
Jo (Joanne) & Lou (Louis) Cormier
506-532-3757